Motorhome Service Menu
At our Approved Workshop Scheme on-site service we are able to carry out a broad range of work including: repairs, maintenance, accessory fittings, security fittings and audio/visual fittings.
We carry out a wide range of motorhome repairs and are also able to offer insurance repairs and manufacturer's warranty work.
Our Services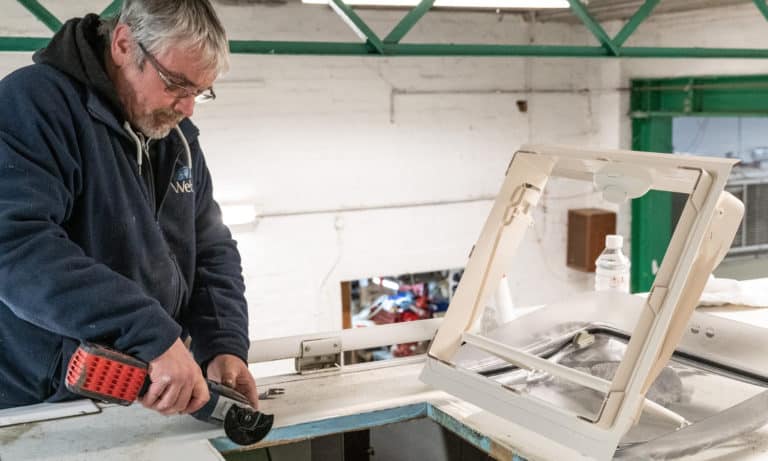 Habitation Tests
AWS (run by the NCC) Approved Habitation Tests: starting from £269.99 (incl. VAT)
A yearly habitation test is essential maintenance in order to ensure your motorhome is operating at optimum levels and it's a good way to protect your investment. A Webbs habitation test consists of a full inspection of your vehicle, plus a gas pressure and soundness check, electrical check, water system check and ingress inspection.
STGW Gas Test: starting from £99.99 (incl. VAT)
A STGW test is a more in-depth test of your vehicles whole gas system. An AWS Habitation Service includes just a gas air/soundness check and so often customers opt for a STGW test in addition to a Habitation Test.  A STGW gas certificate will be presented upon completion.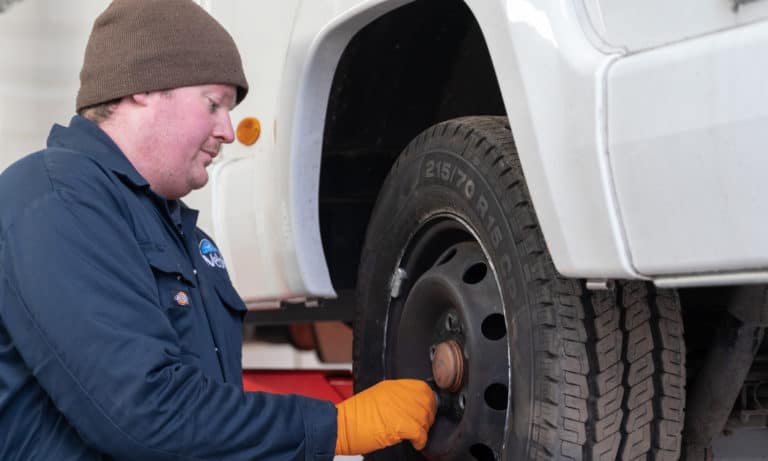 Repairs
We carry out a wide range of repairs to all motorhomes and caravans and are also able to offer insurance repairs and manufacturer's warranty work. An example of the types of repairs we cover include:
Repairs to gas equipment and appliances
• Insurance work
• De-lamination
• Damp repairs
• Body work
• Electrical faults
• Repairs to Webasto and Eberspacher diesel heating systems
• Engine repairs, brakes, clutches and gearboxes
• Air conditioning re-gas
• Battery replacement (engine and leisure battery)
• Truma approved technicians
Accessory fitting
Alongside our parts and accessories departments we are able to fit and supply optional extras and accessories, including:
• Bike racks
• Back/top boxes
• Ladders
• Awnings
• Reversing aids including cameras & sensors
• Gasflow refillable gas systems
• Security systems
• Satellite Systems
• Air conditioning units
• Audio and visual systems
• Solar panels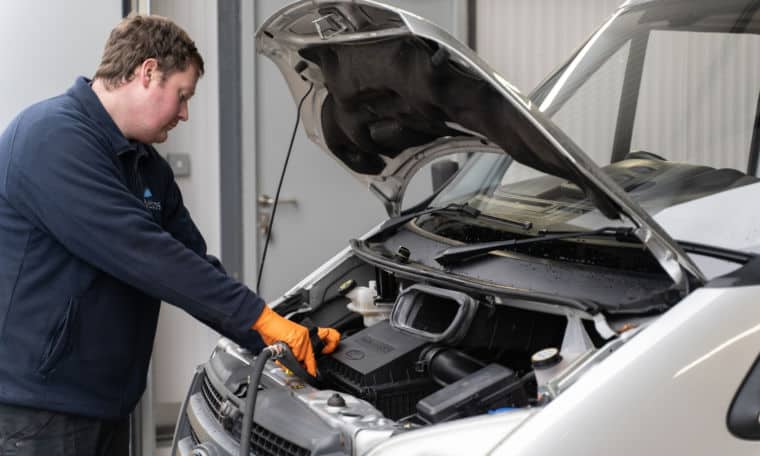 Engine Service
A Webbs annual service includes the following:
Replace engine oil and filter change
Check tyre wear and pressure
Check front and back break pad wear and wires (where needed)
Check condition of all pipes and lines (fuel, brakes, exhaust)
Check condition of all rubber components
Check condition and tension of all aux drive belts, adjusting where necessary
Check and clean air filter
Check and adjust handbrake
Check all fluid levels and top up where required
Check washers and wipers
Check all lights are fully operational
Road test
Engine services start from: £139.99 (incl. VAT, plus parts)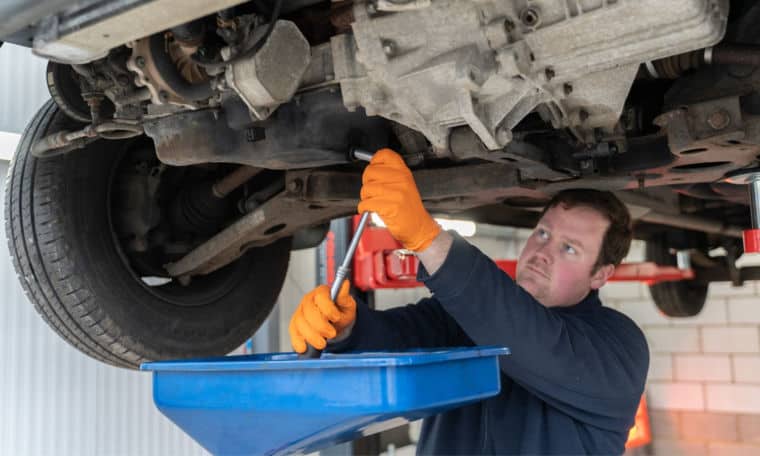 WINTER SAFETY CHECK
Tyres are essential in keeping you safe on the roads especially during the winter months with the risk of snow and ice. Part of our winter safety check will include an inspection of your tyres overall condition, tread depth and pressure.
Battery failure is more common in the winter months for a number of reasons. The colder the temperature gets, the slower the chemical reactions within the battery hence reduced performance. During the winter we naturally use more electrical components (heating and lights) which place additional demands on the battery.
Coolant / Anti-freeze. Your engine's coolant level should be checked regularly to avoid causing serious damage to your engine. During the winter months, it is essential to check your anti-freeze levels as water alone can freeze rendering your coolant system useless.
Wiper blades, windscreen system and screen wash levels. Shorter days and bad weather mean visibility on the road is even more important. Part of our safety check includes inspecting your wiper blades to ensure they are free of splits and damage. We also check the operation of your windscreen wash system and top up your screen wash.
Light Bulbs. Ensuring your vehicle's lights are working correctly is critical for your own safety and other road. Having a faulty or damaged bulb is illegal so make sure you check these on a regular basis.
Winter Safety Checks available now: starting from £42.00