---

The UK is home to many stunning staycation locations. By investing in a motorhome, you have the opportunity to go wherever you like! Whether you prefer a walk along the stunning coast or a hike up a mountain, your motorhome can take you there. To help you choose the perfect destination for this summer, we've listed our 5 favourite UK locations:
Cornwall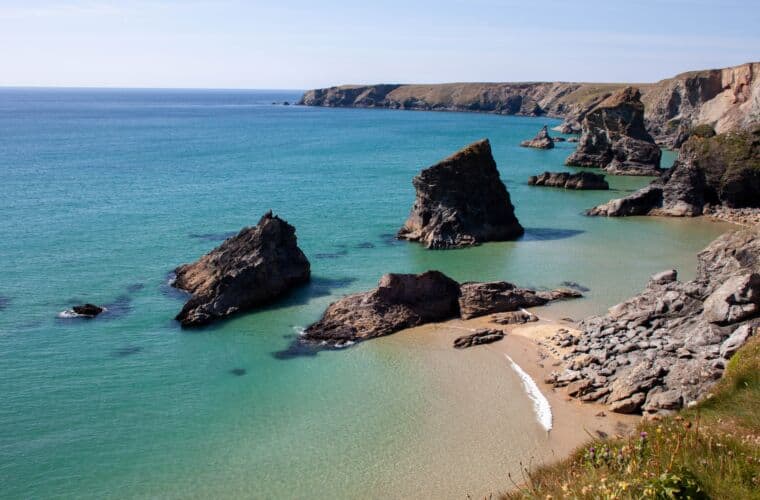 The beauty of Cornwall is second-to-none! No need to travel overseas for your yearly beach vacation, Cornwall is a
tropical haven, with its golden beaches, crystal-blue water, and friendly coastal towns (as long as the weather is on your side)! Cornwall is famous for its award-winning, 400 beaches, opportunity to do water sports, renowned seafood, and Cornish pasties.
The Lake District
As England's largest National Park in Cumbria, The Lake District, attracts tourists from all over the world with its stunning mountains, colourful countryside, wildlife, history, and hot spots for stargazing. The Lake District is a popular vacation destination, filled with glacial lakes, art galleries, and historical literary associations. For an action-packed holiday, the Lake District is perfect; you can climb the highest mountain Scafell Pike, boat across a lake, or brave a cave!
Scotland
Scotland is the epitome of bustling cities, outstanding landscapes, mountains, and sandy shores. Explore Scotland's dramatic countryside, mountains, lakes, and beautiful waterfalls for a wholesome trip. With outstanding architecture such as its array of castles, Scotland is a great place to go sightseeing. Scotland's famous Craigievar Castle was Walt Disney's inspiration for the Disney fairy-tale castle! Its cities, Glasgow, and Edinburgh are fantastic locations for a shopping trip, restaurants, bars, and home to the Scottish National Gallery.
Wales
In Wales, you can dip your toe in stunning blue waters or zipline down the longest and fastest zip wire in the world! Wales can be a relaxing getaway on the beaches or an adventurous trip, exploring the 600 castles, cities, National Parks, or walking the coastline and trying traditional Welsh food. Packed with lots of activities, Wales offers glorious scenery, caves, mines, and native seals.
Devon
If you're looking for a tranquil holiday this summer, Devon is the perfect place! Devon boasts award-winning beaches, two National Parks, wildlife, stunning countryside, and rural villages. The historic cities of Plymouth and Exeter are also great day outs, with lots of shopping locations and cafes to try the famous Devon cream tea. The fresh air of Devon's coastal towns is hard to beat!
Browse our latest motorhome deals and turn your journeys into adventures with a Webb's motorhome.